We proudly sponsored Biotech Week Boston's Diversity Equity & Inclusion (DE&I) Summit last week. The Summit brought together panelists and attendees from over 22 countries around the world, each with a diverse set of experiences, perspectives, and important themes to add to the conversation.
WR Immigration's Julie Galvin led a session focused on overcoming common obstacles, including incorporating a DE&I lens when hiring foreign-born employees.
The Summit's keynote, Incorporate the Right Diversity, Equity & Inclusion Processes for Your Company, included insights from leaders at some of the world's largest pharma companies. They touched on themes critical to an inclusive workforce, such as foreign-born worker engagement, bias correction, the future of work, the LGBTQ+ community, and workplace agility.
A few key points emerged throughout the day: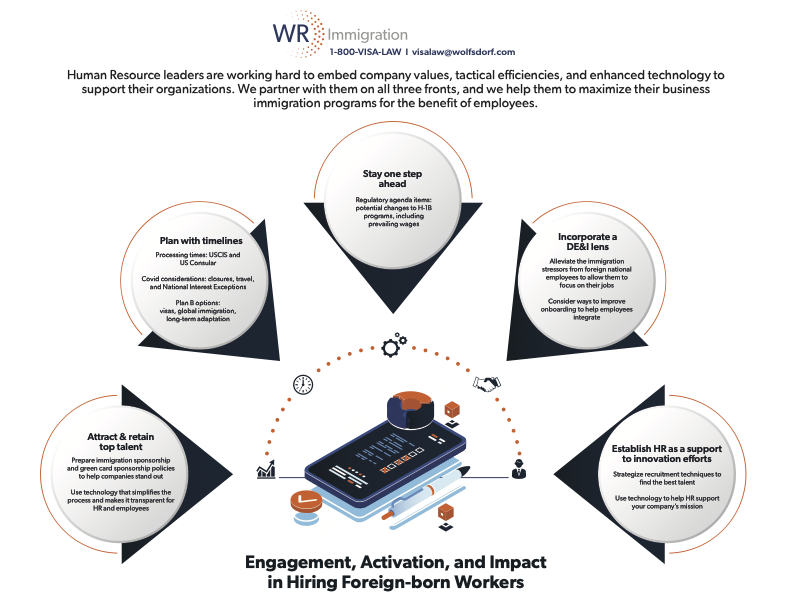 Incorporating DE&I requires investment, passion, and purpose. Human Resource leaders are investing their time to embed company values, facilitate transitions, and improve the hiring process for foreign-born workers. For those in the Life Sciences community, these efforts make real contributions to overcoming barriers, bringing impact, and accelerating innovation.
Connect with people first. Understand their "why." Hiring talent within the Life Sciences community can be challenging when, at times, there are a handful of people around the world who specialize in the skills that a company may need. Attracting and retaining this talent requires a willingness and ability to connect with people regardless of their location, cultural affiliations, or diverse views. As hiring efforts for foreign-born talent expand, companies are making deeper investments to demonstrate flexibility and agility across markets.
Have courageous conversations. During today's Great Recession, the younger workforce is more closely analyzing a company's profile before joining a team. There is a heightened need to not just "check the box" for diversity but also to disclose information and make a commitment to these transparent conversations. Consistency to follow through on DE&I commitments will help HR teams attract and retain top talent on a global scale.
Consequences for not including DE&I are significant. As Julie highlighted in her roundtable, policies and programs are required to help foreign-born talent transition to their new roles, especially in their first 100 days. Companies are also faced with important decisions around how to decrease attrition rates. This intersection of immigration and culture is clear: a DE&I lens is required to efficiently move the needle for global mobility teams – and move employees through the immigration process and into the company culture.  
Rules are changing on travel bans, visa policies, and exemptions; at WR, we partner with HR leaders to keep pace with the immigration changes and help provide that path for foreign-born talent.
We also understand the value DE&I plays in our community, partnerships with HR, and their contributions among global mobility teams. We know our role goes beyond the crucial work that we do; as a result, we have built a firm that prioritizes opportunity for all. Our goal is to help empower innovation by bringing foreign-born talent to Life Science companies and beyond.