Fluctuating immigration policies and unpredictable COVID-19 restrictions have resulted in a need for improved communication tools, propelling organizations – including HR departments – into the future of work. With the job market in sectors like Life Sciences expected to grow 7% by 2028, effective technology will be a key enabler to address both HR and employee needs.
During the recruitment and onboarding process, there are a lot of variables HR must juggle – especially when managing foreign-born workers. Between border closures, visa applications, evolving pandemic-related work policies, and other immigration challenges, the ability to efficiently oversee recruitment is a high priority. An inefficient process can lead to a disorganized team, which in the end affects the experience of new and prospective employees. These types of issues are often a sticking point with the workforce: 70% of job candidates expressed dissatisfaction with the way in which the hiring organization kept them up to date during their recruitment.
Direct access to cases and real-time progress reports helps HR focus its attention where it is needed most. Implementing the right technology also reduces the time spent on each case and leads to greater efficiency during hiring and onboarding.
For foreign-born employees, starting a new role can be stressful enough as they contend with the complexities of immigration. Ultimately, employees want consistent communication with the HR team. They want to know where they are in the process and what they need in order to be prepared for the road ahead.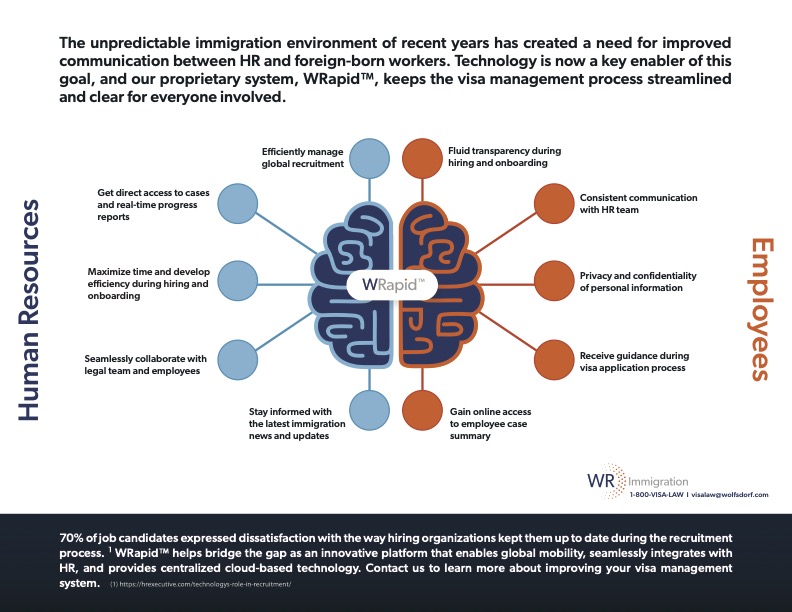 The acceleration and adoption of technology is changing the way HR leaders navigate talent acquisition and their day-to-day processes. Through our work with client organizations and their employees, we developed an immigration management system that allows HR and foreign workers to easily track the progress of their cases. WRapid™ is a cutting-edge software that revolutionizes visa management for businesses while providing the latest immigration guidelines and integration capabilities.
WR Immigration's technology and case handling enables seamless integration with HR through centralized cloud-based technology. Powered by Salesforce and driven by AI, WRapid™ keeps the hiring process streamlined for human resource teams and employees.
554 total views, 2 views today