As HR leaders compete in today's talent market, they frequently look across borders for the skilled new hires the organization needs to succeed. When bringing foreign workers on board, however, there are steps they should take to ensure a smooth onboarding over the first 100 days.
Here we highlight some of the most important and common issues that we see as new employees join a company:
Ensuring smooth documentation
All new employees go through the hassle of filing paperwork to establish their employment. Foreign-born workers, however, likely require additional time to ensure the proper forms are completed. For example, while the I-9 form is routine in most cases, verifying employment eligibility can be more complicated and demand more information for foreign born workers.
These situations can also prompt a delicate exchange: HR must gather the right information without pushing for unnecessary documentation. In the worst case, these requests can trigger discrimination claims from workers who feel they were asked to take extra steps due to their status as a foreign employee.
Policies & communications
HR policies are critical to have in place before onboarding foreign-born talent, and they should include uniform practices that are applicable to all employees.
An immigration sponsorship policy includes the type of employee a company is willing to sponsor, what factors are being considered, and what costs will be covered. They should also note for the record that HR may need to ask for additional documentation at times; this ultimately helps protect a company from the previously mentioned potential discrimination claims.
The sponsorship policy and employee handbook should live in a forum accessible to all, such as a company-wide intranet. When policy updates are implemented, information needs to be properly disseminated to employees in order to create a record of change.
Information sharing
USCIS processing backlogs can be a challenge during the first 100 days. While employees wait to learn about their immigration status, companies may have their hands tied when it comes to pinpointing where visa cases stand. Part of our role at WR Immigration is to work on behalf of HR in this respect, contacting USCIS to gather information about an employee's case status. At times we need to exhaust a range of options, such as working with congressional liaisons before an update is found.
While the process unfolds, regular touch points and open communication between HR and foreign-born workers can ease the anxiety.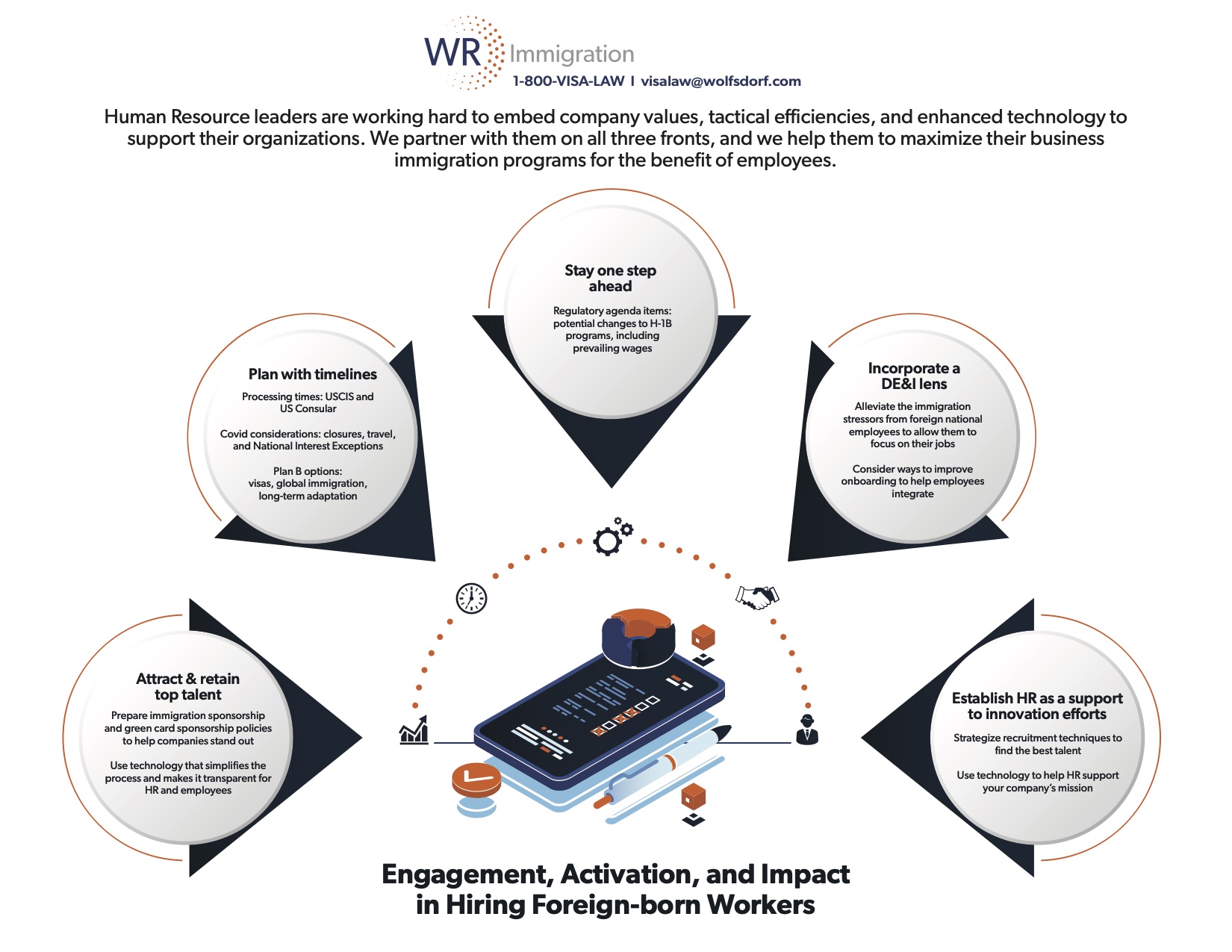 There's a significant emphasis on timeline management during the first 100 days. To stay on track with major milestones during the visa process, we use our proprietary platform, WRapid™. The online portal helps us monitor updates and facilitate transparent communication between HR leaders and foreign-born workers.
At WR Immigration, we partner with HR leaders to plan timelines, develop policies, and work through backlogs. We understand the importance of transparent communication, especially during the first 100 days of onboarding for foreign-born workers. With frequent policy changes affecting visas and travel bans, we utilize best practices to work through obstacles and bridge the gaps for our clients and their employees.