As companies adapt to a radically different post-pandemic world, a merger and acquisition wave is sweeping across several sectors. Life Sciences is one of the most active industries, driven by new outlooks in drug discovery, collaboration, and global efficiencies.
For HR and foreign-born employees, mergers can come loaded with complexities and pitfalls that are often not addressed during the planning stages. Strategies may be laid out for roles, office locations, and cultural integration, but immigration factors that directly impact the organization are often overlooked. This can result in key employees being put in untenable positions. They may need to obtain a new visa, be relocated, or worse yet – have no options to remain employed by the acquiring company.
Such risk exists across all sectors. Life Sciences companies, however, may experience more stress given the crucial nature of the skilled scientists they employ from different regions. Losing key people or creating uncertainty and conflict can make a difficult situation even harder; consider that 33 percent of mergers fail due to poor or inadequate cultural integration. Forethought and planning can help prevent this one piece of the puzzle from contributing to an already challenging environment.
In preparation for a merger, HR leaders should assess sponsored visas and determine how each employee will be affected. That information will lay the groundwork for a few important early steps:
Determine visa sponsorship policy.
When two companies merge, the acquiring entity may have a different visa sponsorship policy that changes the playing field for foreign-born employees. Policy changes need to be communicated, and HR knows well that more restrictive terms will likely rankle visa holders.
2. How will I-9s be handled?
Any granular moves regarding visas will start with the treatment of I-9s, which is dictated by the terms of the acquisition. Companies will either need to transfer existing I-9s to the acquiring company, or employees of the acquired company will technically be terminated and required to sign new contracts – including new I-9s – with the acquirer.
3. How do we navigate specific visa issues?
A global workforce often has a variety of visa categories that need to be reshuffled during a merger.
H-1B visas are the most common visa type, and they may trigger questions in a merger. Visas may require amendments if employee roles or titles are changed, or if employees are relocated.
L visas apply to executive, managerial and "specialized knowledge" employees who are transferred from offices abroad to the U.S. for specified amounts of time. A merger could change the corporate structure such that the company loses L-1 eligibility – for example, if the merger results in there no longer being an office abroad. Material changes to an employee's responsibilities could trigger the need for an amended petition or cause the employee to lose his or her L-1 eligibility.
E visas cover employees who are managers or have essential skills and are the same nationality as the employing entity. If the acquiring company is headquartered in a different country, some employees may lose their E status and would need to reapply under a different category.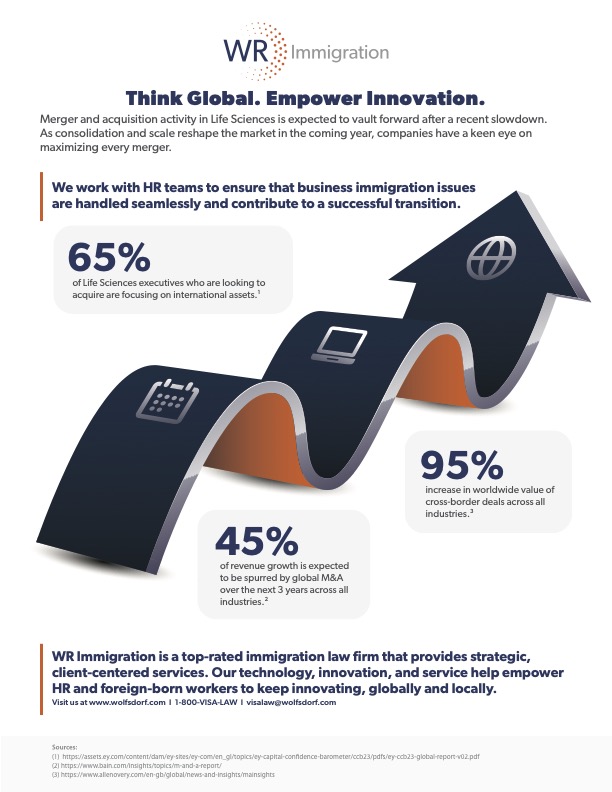 Mergers are rarely easy, and employees can have their worlds turned upside down. Everyone involved is nervous, from the C-suite of the acquiring company to scientists of the seller. Taking steps to put the employee population at ease can be a crucial factor in the cultural shift. That includes consideration of the impact to foreign-born workers, especially when their contributions are important to the mission of the organization.
We encourage company leaders to take an early look at how foreign nationals will be affected by a merger and prepare a game plan to address visa status issues.
To learn more about how we work with companies during and after an acquisition, contact us.