By Joseph Barnett and Bernard Wolfsdorf
The EB-5 Reform and Integrity Act of 2022 brings the immigrant investor program back to life. The May 2022 Visa Bulletin has just been published and it lists new fifth-preference visa categories as follows:
A. DIRECT EB-5 CURRENT FOR ALL COUNTRIES, INCLUDING CHINA
All countries are current under the 5th preference direct program – so-called "Unreserved (C5, T5, and all others) are now open. This includes China.

B. REGIONAL CENTER EB-5 CURRENT FOR ALL COUNTRIES, EXCEPT CHINA STUCK AT 22NOV15

C. NEW SET ASIDE CATEGORIES CURRENT FOR ALL COUNTRIES, INCLUDING CHINA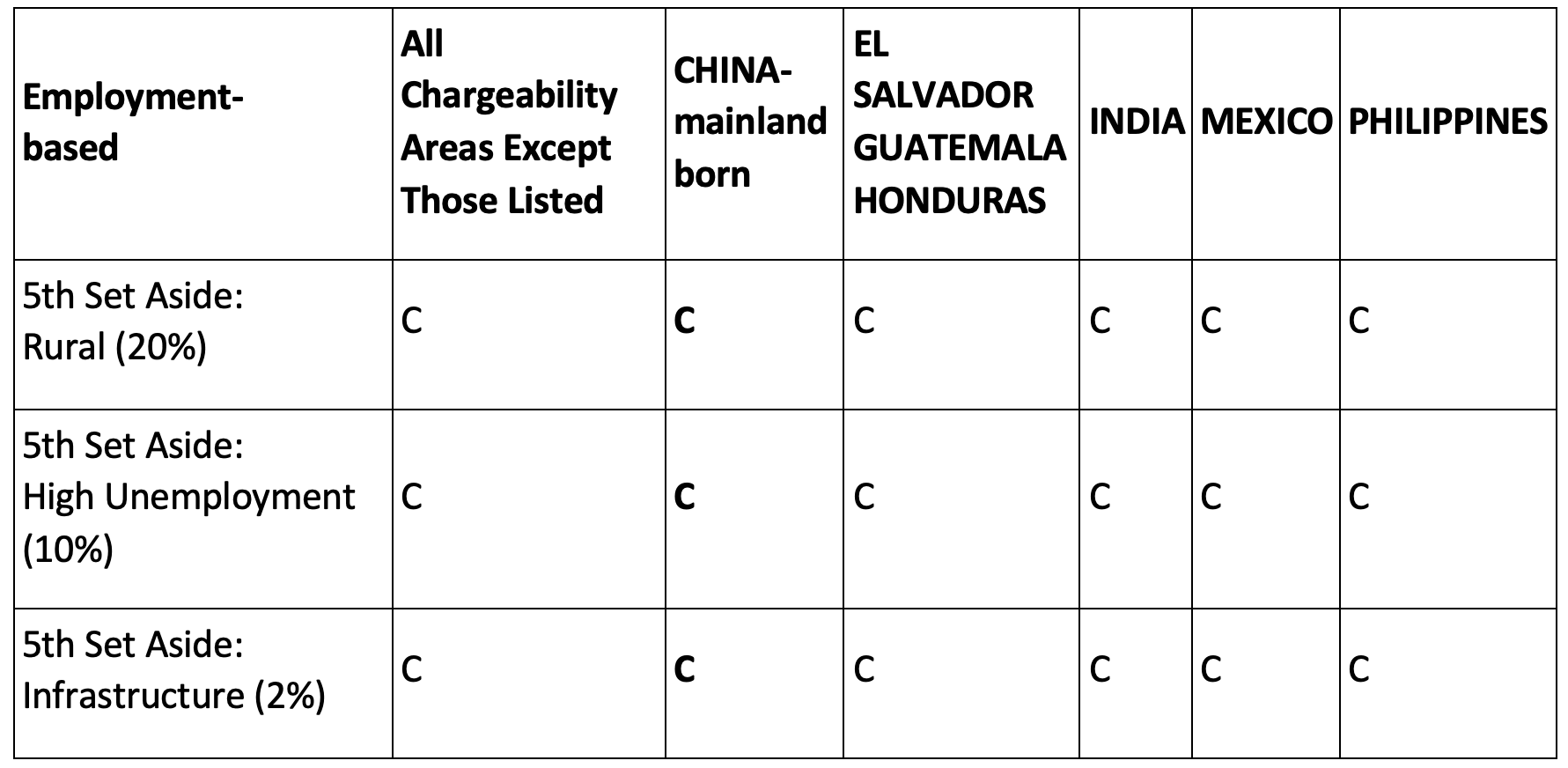 As of March 2021, 32% of all EB-5 visas are reserved as follows: 20% reserved for qualified immigrants who invest in a rural area; 10% reserved for qualified immigrants who invest in a high unemployment area; and 2% reserved for qualified immigrants who invest in infrastructure projects. Any unused "set aside" visas are to be reserved for a maximum of two years. The remaining 68% are unreserved and are allotted for all other qualified EB-5 immigrants.
IMPACT OF EB-5 CURRENT CATEGORIES
Persons lawfully in the U.S. (or even certain 245(k) persons out of status by up to 180days) can file I-485 adjustment of status applications based on pending or approved I-526 petitions.
Several months after filing, adjustment of status applicants and their eligible immediate families will be issued combination work and travel cards.
This provides a rarely seen window of opportunity for certain persons in the U.S. USCIS determines each month whether one uses the "Chart A" Final Action Date or "Chart B" Date for Filing.".  On April 14, 2022, USCIS indicated that an adjustment applicant must use the Dates for Filing chart in the Department of State Visa Bulletin for May 2022, which indicates that all EB-5 visa categories are current, except for unreserved Regional Center cases for mainland China, which has a cutoff date of December 15, 2015. 
The "set aside" provisions in the EB-5 Integrity and Reform Act of 2022 were included to spur investment into specific projects via the use of reserved visa numbers that allow new investors to skip the long visa-delayed waiting lines. While this may help a few new Chinese investors escape the current visa backlog, it sadly neglects existing investors who invested in good faith and on whose shoulders the existing EB-5 Regional Center industry was built.
Specifically, 8 U.S.C. 1153(b)(5)(B) now reserves a certain percentage of the annual allocation of EB-5 visas to qualified immigrants who invest in rural areas (20%), high unemployment areas (10%), and infrastructure projects (2%). The Immigration and Nationality Act's "per-country" limitation (7%) also applies for each of these reserved visa categories.
As a result (and assuming a normal annual numerical limitation of 9,940 EB-5 visas and 3 visas per I-526 petition), each country will only get about forty-six total I-526 petitions for rural areas before becoming oversubscribed, twenty-three I-526 petitions for high unemployment areas, and four I-526 petitions for infrastructure projects. Chinese investors have built this program and managed to advance only by using the a "left-over" visas permitting larger allocations. But now the overall supply has been reduced by 32%, benefiting a few new investors from backlogged countries while making the waiting line worse for those already waiting patiently in line. Additionally, any of these reserved visas which are unused at the end of each fiscal year are to be reserved for immigrant investors for the immediately succeeding fiscal year, and then to all other EB-5 investors the following year.  At this time, it is unclear how DOS will interpret the "set aside" provisions, but two possible interpretations are in the slide below.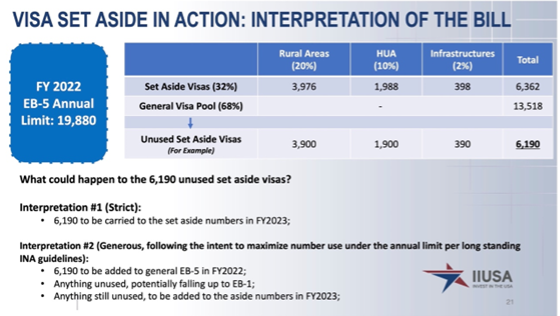 For those Chinese and some Vietnamese and Indian immigrant investors who filed years ago and are stuck in the long visa waiting line, this new visa reservation is a slap in the face, made worse by the possibility of their children aging out. As prominent EB-5 blogger Suzanne Lazicki aptly wrote: "In the zero-sum visa game, newly-reserving visas for some means newly-restricting visa availability for others."
Recent WR Immigration Webinar with Charles Oppenheim
On April 5, WR Immigration hosted a webinar with Mr. Charles Oppenheim, the recently retired Chief of Visa Control at the U.S. Department of State ("DOS"), to comment on these provisions in the new EB-5 legislation. Mr. Oppenheim mentioned the following:
DOS will likely need to create new visa categories to account for the reserved visa allocations. THIS HAS NOW BEEN PUBLISHED AS MR. OPPENHEIM PREDICTED – SEE ABOVE.
It is unclear whether existing immigrant investors and visa applicants will qualify for the new reserved visa allocations, and if they are, it will be difficult for DOS to determine based on its current information into which "line" each investor and eligible family members should be placed.
With regards to the unused visas provisions, DOS will need to reconcile the reservations each year with the other provisions in the INA that relate to visas "falling up" to other employment-based visa categories or "falling across" to family-based visa categories.
There will be more wasted visas this year because of COVID and because the U.S. Consulate in Guangzhou does not have the staff or space necessary to process a substantial number of cases.
Urgent Solution-Congress Needs to Recapture FY2021 & FY2022 Wasted Visas
The U.S. Congress must act now to authorize DOS to use the tens of thousands of EB-5 immigrant visas that were wasted over the past couple of years because of COVID-19 and the EB-5 Regional Center program's lapse. In the past two quarters alone, it is estimated that over 30,000 EB-5 visas will go to waste while countless thousands who already invested continue to wait in line and have their children potentially age out. This is not right. The Jumpstart our Legal Immigration System Act intends to do this. It proposes to recapture hundreds-of-thousands of unused family- and employment-based visas and allows individuals who are in the U.S. and eligible for a green card who lack an available visa number to nevertheless be able to apply for their green card upon paying a fee.
At the IIUSA conference in Orlando, FL this week, Mr. Oppenheim indicated the following steps to reduce the EB-5 visa backlog:
Increase the visa numbers (presumably, through recapture)
Interpret the EB-5 Integrity and Reform Act of 2022 generously to maximum the visa number use under the annual limit.
Utilize all allocated EB-5 visa numbers
Speed up I-526 adjudications
Authorize the Regional Center permanently.
May and June 2022 Visa Bulletin Updates
The May Visa Bulletin (and most likely, the June and July 2022 Visa Bulletins) list the new "reserved visa" categories as "Current" because there is no actual demand yet since I-526 approvals by USCIS can take about two years.  Mr. Oppenheim has stated that until the set aside demand/use can be identified, there may be no need to list a Final Action Date for any country in the foreseeable future. On the other hand, it is possible the Department of State may decide to post a Final Action Date soon to stem the flow of new case processing until the issue can be better understood or, if it is believed that petition portability may/will be an option. This final action date would prevent having too many applicants in the "pipeline" who could not be accommodated for final processing (within a specific time period).
Petition portability is when one takes a previously filed case, under the rural, prior TEA high unemployment category, or possibly even the infrastructure category and transfers the priority date into the new set aside equivalent category. Projects and applicants with pending cases will certainly make this argument, but it is yet to be seen how USCIS can and will recategorize or reprioritize processing from the prior EB-5 program into the new set aside categories, even if meeting identical eligibility categories. For example, a prior rural filing is almost certainly likely to qualify because the definition of rural is identical.
Sadly, the May 2022 Visa Bulletin continues to include a Final Action Date of November 22, 2015, for the China-mainland Regional Center categories (I5 and R5), and lists "Current" for rest of the world.
Thank you to Charlie Oppenheim for his knowledgeable insight that helped us prepare this blog, and to IIUSA for sharing their slides for this blog. Please note – this blog will be updated when USCIS provides adjustment of status filing instructions for the recently released May Visa Bulletin.
Please contact your WR Attorney with questions including Partner Joseph Barnett at JBarnett@wolfsdorf.com; Partner Vivian Zhu at VZhu@wolfsdorf.com; or Managing Partner Bernard Wolfsdorf at Bernard@wolfsdorf.com